Randy Armstrong – Ensembles
Randy Armstrong • Volker Nahrmann & Beyond Borders
World Fusion

Guitarist and multi-instrumentalist, Randy Armstrong, born in the Appalachian mountains of West Virginia in the United States of America has joined forces with four great musicians from around the globe to create Randy Armstrong • Volker Nahrmann & Beyond Borders. The ensemble features the talents of long-time collaborator, bassist, keyboard player and composer, Volker Nahrmann from Hamburg, Germany; the immensely talented drummer and Latin percussionist, Jose Duque from Caracas, Venezuela; Theo Martey, a dynamic drummer and dancer from Accra, Ghana in West Africa; and the sensational middle-eastern, Latin and African style percussionist, Shamou from Tehran, Iran.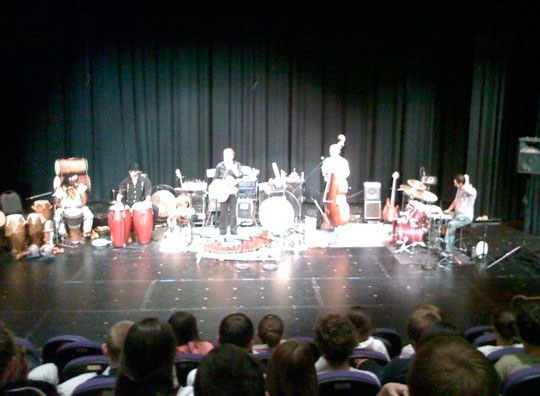 All bandleaders of various groups, each musician brings virtuosic vitality to their performances creating music on a stage filled with a spectacular array of over 100 instruments from around the world. Randy Armstrong • Volker Nahrmann & Beyond Borders performs original compositions and adaptations of traditional music from the four corners of the earth. Each musician is featured throughout the concert presentation and the band also offers educational workshops and master classes to schools, universities and cultural institutions.
The musicians of Randy Armstrong • Volker Nahrmann & Beyond Borders believe that music has the power to transform and uplift people from all walks of life. Recognizing the great diversity of languages, cultures and life-styles of people from around the world, they embrace the universal language of music and the belief that the Earth is One Country and All Humanity Its' Citizens.
Special guest performers Henrique De Almeida, Ken Gable, Marty Quinn, Marcus Santos, Olga Ramon, Charlie Jennison, Dana Oakes, and Steve Ferraris
Book them today.

Grant Funding Available: